Action Lab Entertainment for July 2017
The following titles will be available for purchase in comic shops everywhere!
All regular covers and variants are now $3.99!
AMERIKARATE: VOLUME ONE: SUCK MY KICK
Writer(s): Brockton McKinney, Christian Moran, Corey Kalman
Artist Name(s): Devin Roth
Cover Artist(s): Devin Roth (pencils, inks), Jeff Delgardo (colors)
AmeriKarate is the story of Sam, a war hero who wants to lead a normal life, but is thrust into protecting America from an evil ninja invasion. When he meets a fellow karate fanatic in the form of CIA agent Cynthia Weaver, the chemistry can be cut with a katana! Will they be able to overthrow the megalomaniacal super-ninja, Neon… or will their sparks ignite a karate-fire that will consume them both?! Collects issues #1-4 of the hit series!
128 pgs./ M / FC                   $14.99 
COUGAR AND CUB: VOLUME ONE


Writer(s): Nick Marino, Rosie Knight
Artist Name(s): Daniel Arruda Massa
Cover Artist(s): Daniel Arruda MassaThe courageous Cougar is Megaville's friskiest superhero, tossing crooks left and right with her loyal sidekick, the cunning Cub. But when a slow night on the prowl leads to a one night stand, their perfect partnership is plunged into peril! Can our delicious duo mend their fractured friendship and defeat Megaville's roster of outrageous supervillains?!?

Plus, visit Cougar and Cub in their natural habitat as we take you on a trip through comic book history with five frenzied flashbacks!

128 pgs./ M / FC                   $14.99 
DOLLFACE #7

Writer(s): Dan Mendoza & Bryan Seaton
Artist Name(s): Dan Mendoza
Cover Artist(s): Dan Mendoza, Marco Maccagni (colors: Daniel Massa), Colette Turner (colors: J. Skipper)
Cover A – Dan Mendoza (unlimited)
Cover B – Dan Mendoza Tattered & Torn variant cover (limited to 2000)
Cover C – Marco Maccagni Pin-up variant cover (limited to 1500)
Cover D – Marco Maccagni Pin-up Tattered & Torn variant cover (limited to 2000)
Cover E – Colette Turner Pin-up variant cover (limited to 1500)
Cover F – Colette Turner Pin-up Tattered & Torn variant cover (limited to 2000)

The battle continues as Lila and Ivan take on the giant, gluttonous witch who means to crush them. Literally.Retailer exclusive coves are available, please contact

[email protected]

.

32 pgs./ M / FC                   $3.99 
DOLLFACE VOLUME ONE

Writer(s): Dan Mendoza & Bryan Seaton
Artist Name(s): Dan Mendoza
Cover Artist(s): Dan Mendoza Meet Lila, a 17th century soul that has been transported into present time and into the body of a life size, ball jointed doll. Created by a couple of MIT students trying to use technology and a 3D printer to create the perfect woman, Lila uses this second chance at life to hunt the witches that killed her. This volume collects issues #1-4 of the runaway hit series.

128 pgs./ M / FC                   $14.99 
HERO CATS:

MIDNIGHT

OVER STELLAR CITY VOLUME 2 #2

Writer(s): Kyle Puttkammer
Artist Name(s): Alex Ogle (art, letters and colors)
Cover Artist(s): Alex OgleDr. Ross Rex breaks out of the Taurus County Jail and our favorite Hero Cat must uncover his master plan.  Return with us to Stone City as

Midnight

, Cassiopeia, Belle, Eastly and his people prepare for the upcoming war.

32 pgs./ E / FC                   $3.99 
INFINITE SEVEN #5

Writer(s): Dave Dwonch
Artist Name(s): Arturo Mesa (Pencils), Geraldo Filho (Colors)
Cover Artist(s): Arturo Mesa (Covers A-B), Dave Dwonch (Cover C) Synopsis: After the tragic events of last issue, Anthony "Smash Brannagan" Zane lies in a coma at the edge of death, while a friend from his past threatens to expose the Shadow Cabinet to the world, putting her in the crosshairs of the Infinite Seven! The status quo has changed, making this the PERFECT jump on point for new readers!
                                                                                          
Featuring an artist variant cover by series creator, Dave Dwonch!

32 pgs./ T+ / FC                   $3.99 
KID SHERLOCK #2

Writer(s): Justin Phillips
Artist Name(s): Sean Miller (Pencils), Lesley Atlansky (Colors)
Cover Artist(s): Sean Miller It's another day in Baker Elementary room 221 until show and tell is disrupted by disaster. Watson takes the opportunity to try and make friends but ends up questioning his current friendship with Sherlock Holmes as Sherlock is oblivious to his feelings. But when Watson is accused of stealing, Sherlock is forced to face something terrifying: hisown feelings.

32 pgs./ E / FC                   $3.99 
MEDISIN #3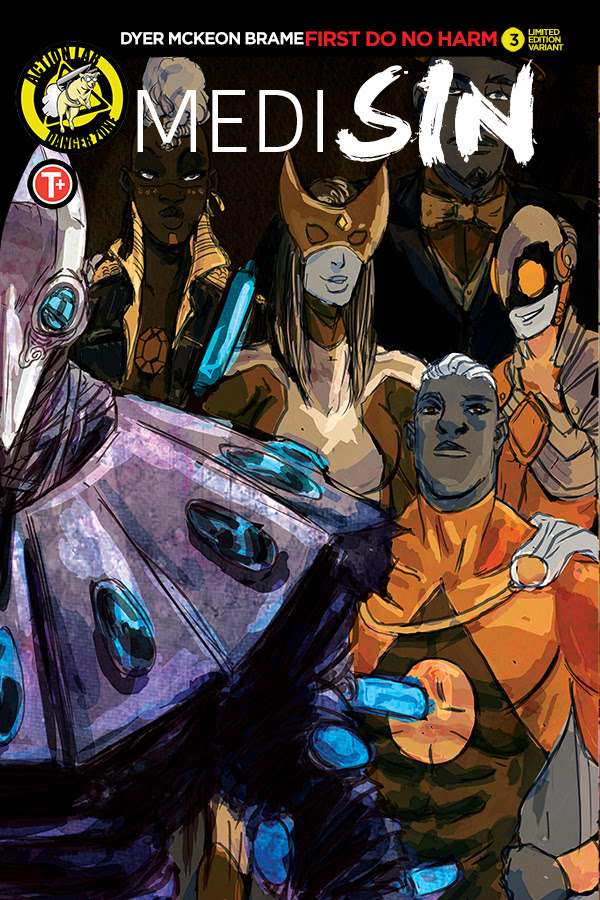 Writer(s): Jeff Dyer and Mark McKeon
Artist Name(s): David Brame (art), Juaquin Pereyra (colors)
Cover Artist(s): David Brame (Covers A and B) Malady forces Ethan Sharp and his team of blackmailed doctors to use extreme and unethical interrogation methods against a rival. Meanwhile, Dr. Ramirez finds himself in the middle of a heated relationship with two super villainesses. A shocking truth is revealed about a doctor that will change everything!

32 pgs./ T+ / FC                   $3.99 
MIRACULOUS: ANIMAN


Writer(s): Zag Entertainment
Artist Name(s): Zag Entertainment
Cover Artist(s):  Zag Entertainment
Arranged and Adapted by: Cheryl Black and Nicole D'AndriaAdrien tries to help his friend Nino out with his crush… Marinette! Unfortunately, there's a mix-up and Marinette thinks Adrien is the one asking her out to the zoo. Things get even worse when the zookeeper, Otis, transforms into Animan. Now with the ability to shapeshift into any animal, Animan goes after Marinette's classmate Kim. Will Ladybug and Cat Noir save him in time?

64 pgs./ E / FC                   $4.99 
MIRACULOUS ADVENTURES #1

Created by: Thomas Astruc
Writer(s): Bryan Seaton, Nicole D'Andria
Artist Name(s): Brian Hess (interior art), Darn

é

Lang (colors)
Covers Artist(s): Brian Hess (Cover A), Katie Cook (Cover B), Sara Richard (Cover C), Tony Fleecs (Cover D)Replay
The first original illustrated story based on Zag Entertainment's Miraculous: Tales of Ladybug and Cat Noir. When Adrien outplays a lacrosse player, Hawk Moth akumitizes him. Becoming Replay, he gains the ability to control time around him. Will Ladybug and Cat Noir be fast enough to defeat him? Or will he stop their heroics once and for all?

32 pgs./ E / FC                   $3.99 
SPENCER & LOCKE #4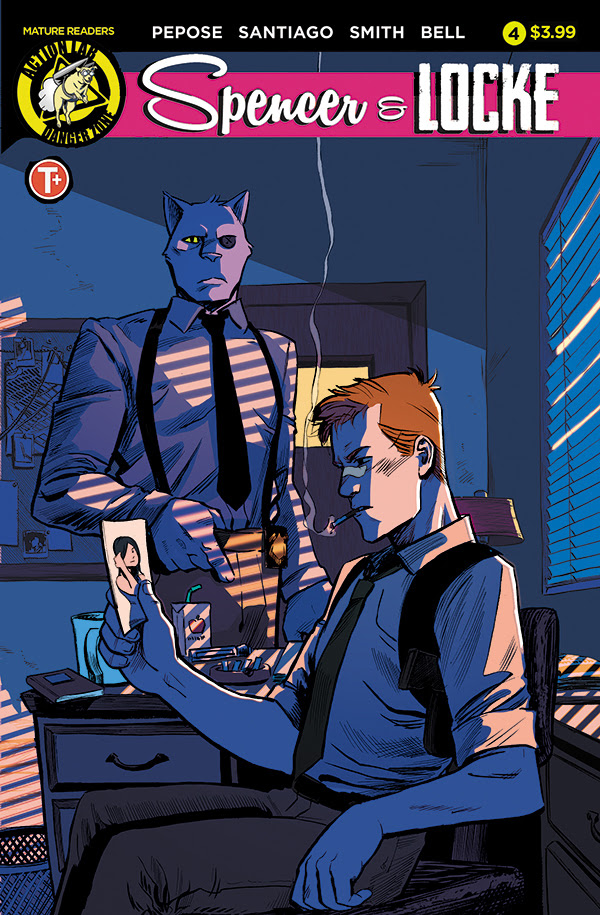 Writer(s): David Pepose
Artist Name(s): Jorge Santiago, Jr. (pencils), Jasen Smith (colors)
Cover Artist(s): Jorge Santiago, Jr. (Cover A); Maan House (Cover B); Jorge Santiago, Jr. (Cover C)The end is nigh, as Spencer and Locke square off against Locke's crime lord father, Augustus, with a child's life hanging in the balance! Can Locke survive against these overwhelming odds? Does he even want to? And who killed Sophie Jenkins? Find out here in this explosive finale!

32 pgs./ T+ / FC                   $3.99 
VAMPBLADE SEASON 2 #5
Writer(s): Jason Martin
Artist Name(s): Marco Maccagni
Cover Artist(s): Winston Young (Covers A-B), Dan Mendoza (Covers C-D), Marco Maccagni (Covers E-F)
Cover A – Standard Cover (unlimited)
Cover B – Risqué variant (limited to 2000)
Cover C – Artist variant (limited to 1500)
Cover D – Artist risqué (limited to 2000)
Cover E – 90s variant (limited to 1500)
Cover F – 90s risqué (limited to 2000)After team Vampblade's first mission goes decidedly not to plan, it's back to basics. Katie must learn to control her new relationship with the blades… while also keeping the comic shop afloat in today's tricky market!

Features 3 covers (regular, artist, and 90s style), each with a risqué variant as well!

32 pgs./ M / FC                   $3.99 
ZOMBIE TRAMP #37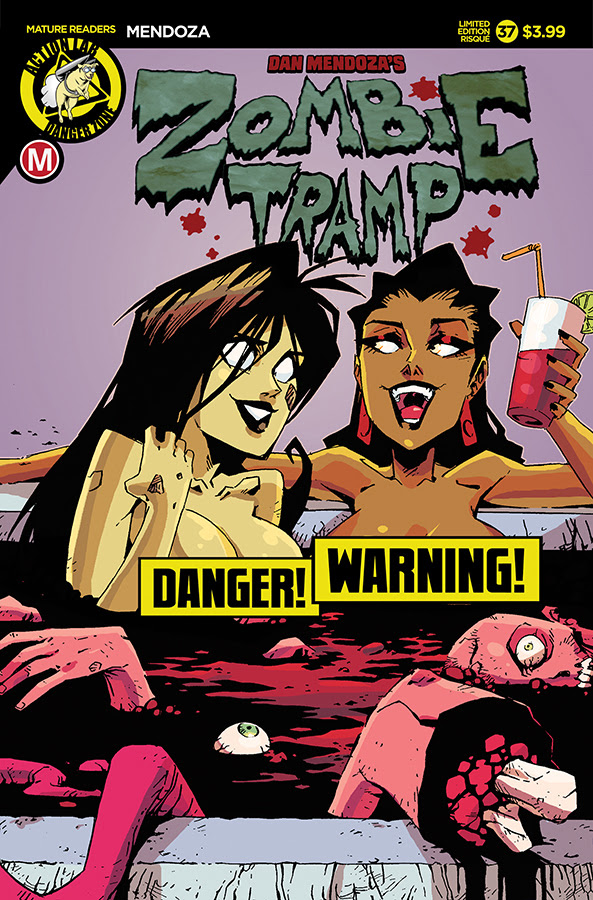 Writer(s): Dan Mendoza
Artist Name(s): Dan Mendoza
Cover Artist(s): Mendoza (Covers A-B), Marco Maccagni (Covers C-D), Renzo Rodriguez (Covers E-F)
Cover A – Regular cover (unlimited)
Cover B – Risqué (limited to 2500)
Cover C – "blood tub" variant (limited to 2000)
Cover D – risqué "blood tub" variant (limited to 2500)
Cover E – artist variant (limited to 2000)
Cover F – artist risqué variant (limited to 2500)

A special 3 year anniversary issue with story and art by series creator Dan Mendoza. Featuring. The. Most. Shocking. Revelation. Yet!Presenting 3 regular and risqué variants, including two covers from series creator Dan Mendoza (DollFace)!!

32 pgs./ M / FC                   $3.99 
ZOMBIE TRAMP: ORIGINS (VOLUME 1 COLLECTOR EDITION)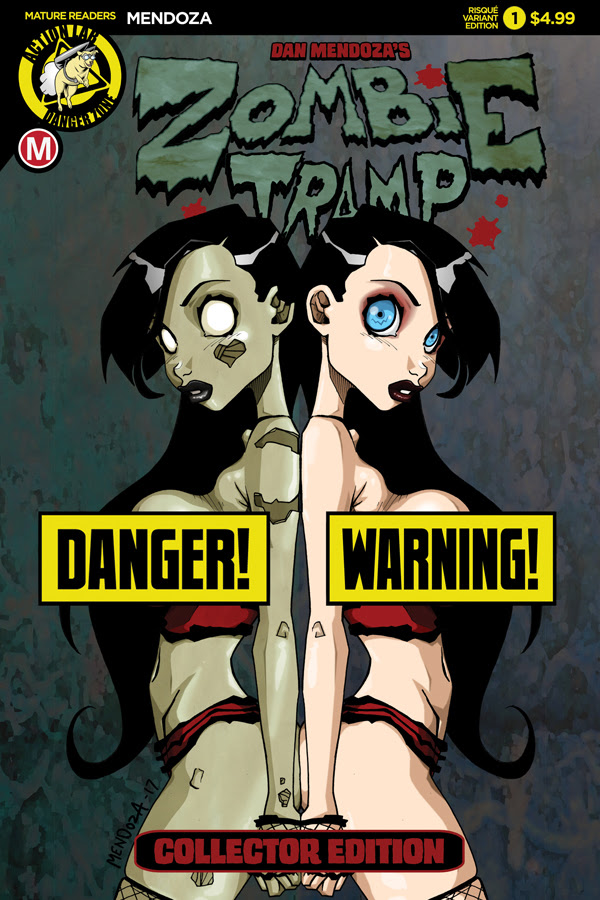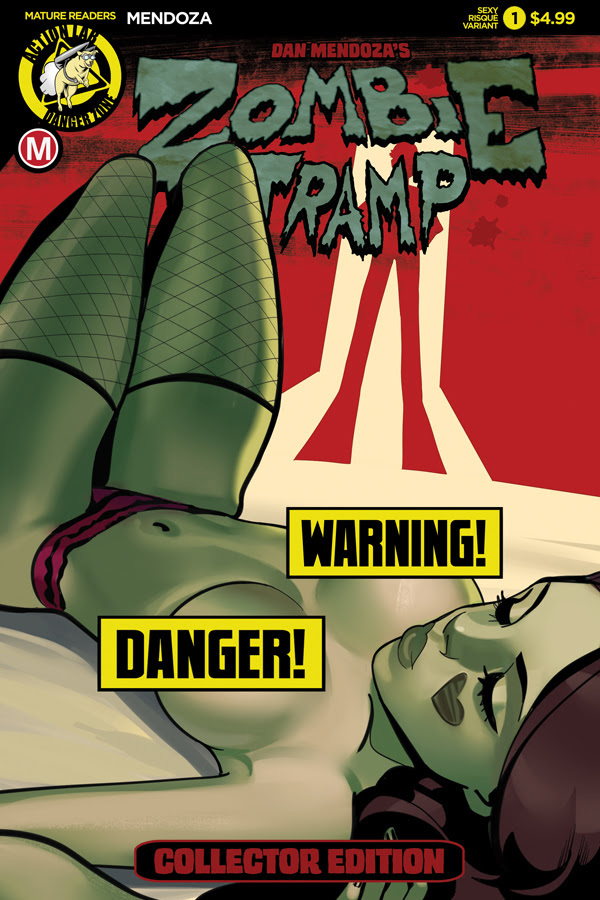 Writer(s): Dan Mendoza
Artist Name(s): Dan Mendoza
Cover Artist(s): Dan Mendoza (cover A – regular, and B), Celor (cover C and D), Marco Maccagni (cover E and F), Dan Mendoza (cover G)
Cover B – Risqué (limited to 2500)
Cover C – SEXY variant (limited to 2000)
Cover D – risqué SEXY variant (limited to 2500)
Cover E – GORY variant (limited to 2000)
Cover F – risqué GORY variant (limited to 2500)
Cover G – replica variant (limited to 2000)
Cover H –  Blank sketch variantThe impossible to find, long out of print original series, in full color for the first time! Revisit the powerful origin story that launched a modern cult classic as high priced Hollywood call girl, Janey Belle, gets set on her fateful path to become… Zombie Tramp! This is a remastered reprinting of the first series that was never before released in single issues to the direct market.

Features a new cover by series creator Dan Mendoza, as well as all new SEXY and GORY variants (each with risqué variants), plus a "replica" variant (featuring a recreation of the rare first issue cover), and a blank sketch variant! The definitive collector edition!

36 pgs./ M / FC                   $4.99