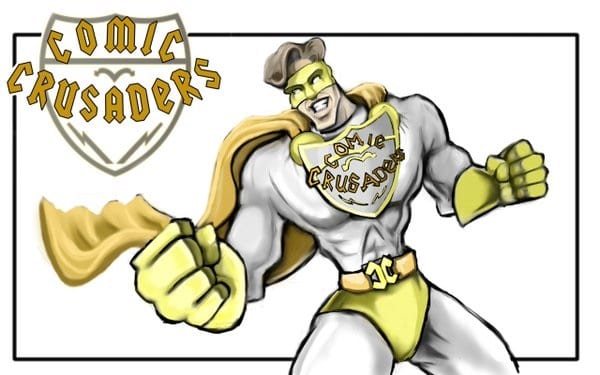 Comic Crusaders (CC), is a growing online comics and pop culture magazine.  We have been building relationships with publishers both big and small while  drawing a loyal audience of readers on a worldwide scale.
By advertising through Comic Crusaders you can get your message out to this desirable audience in a variety of ways. Sponsorship, display advertising, podcasts and more advertising opportunities are available at Comic Crusaders.
CC'S ADVERTISING BENEFITS
The Comic Crusaders Website brand provides a powerful and credible environment for your advertising message. Advertisers will find exciting advertising opportunities at Comic Crusaders for reaching our growing high-quality unique visitors each month. From banner rotations to sponsorship, our Ad packages offer advertisers high impact opportunities to reach the audience of their choice. For more information send emails to: [email protected]
TYPES OF ADVERTISING
CC offers a variety of advertising opportunities, from flat rate sidebar ads to multi-month sponsorships, background re-skins, etc..
Sidebar Ads:
125 x 125: $100 per month (includes a podcast interview)
300 x 300: $150 per month (includes a podcast interview, 1 social share via our social media accounts)
Banner Ad: SOLD OUT 
Top of site: 1170 x 90 $250 per month includes a podcast all about your product on UCPN
Sponsored posts: (Limited to 5 a month)
$400 per article
Wallpaper  ad: (Covers whole background of Comic Crusaders website)
15 days: $1,000 (includes a podcast interview, 2 social shares via our social media accounts)
30 Days: $1,500 (includes a podcast interview, 4 social shares via our social media accounts)
You are getting value, quality and a great, growing, reach to a worldwide audience. See some stats below:
Our Reach:
*Monthly Stats:
Users 267,720
Page views 1.3M
Time on Page 2:00:00
US traffic 63.00%
Desktop 83.00%
*Alexa Ranking :
World Top 132,271k
USA Top 25k
Top 20 rated (Feedspot) and rising comic book news site in world.
Numbers can't be denied, let us help you get eyes on your project!
We offer a special discount to self-published and independent comics publishers.  Contact us for more information.
PLACING AN ORDER
If you have questions regarding advertising at CC, or would like to place an order, you may contact CC in the following manner:
E-Mail / Contact CC at [email protected]  When contacting us please indicate what sort of advertising you're looking for and what sort of budgetary range you are considering. How long would you like to advertise for? If you're not sure, that's fine, too! And let us know what sort of product or service you're looking to advertise. We'll help guide you through the myriad advertising opportunities on CC.
Real World:
Contact: Al Mega
Phone: 201-204-9216
Comic Crusaders
Orlando, Fl 32828
We accept Visa, Mastercard, American Express, Checks or PayPal. New customers must make payment arrangements in full and up front, no exceptions. Sponsorship and long term clients can be billed monthly, once credit has been established.
*Stats updated on 03/01/2020
**Comic Crusaders Mascot designed by Ken Lipson**