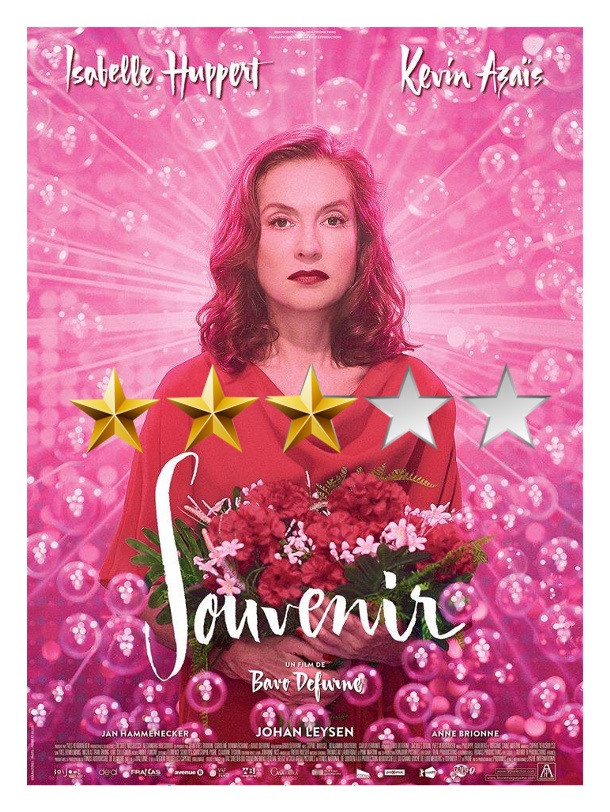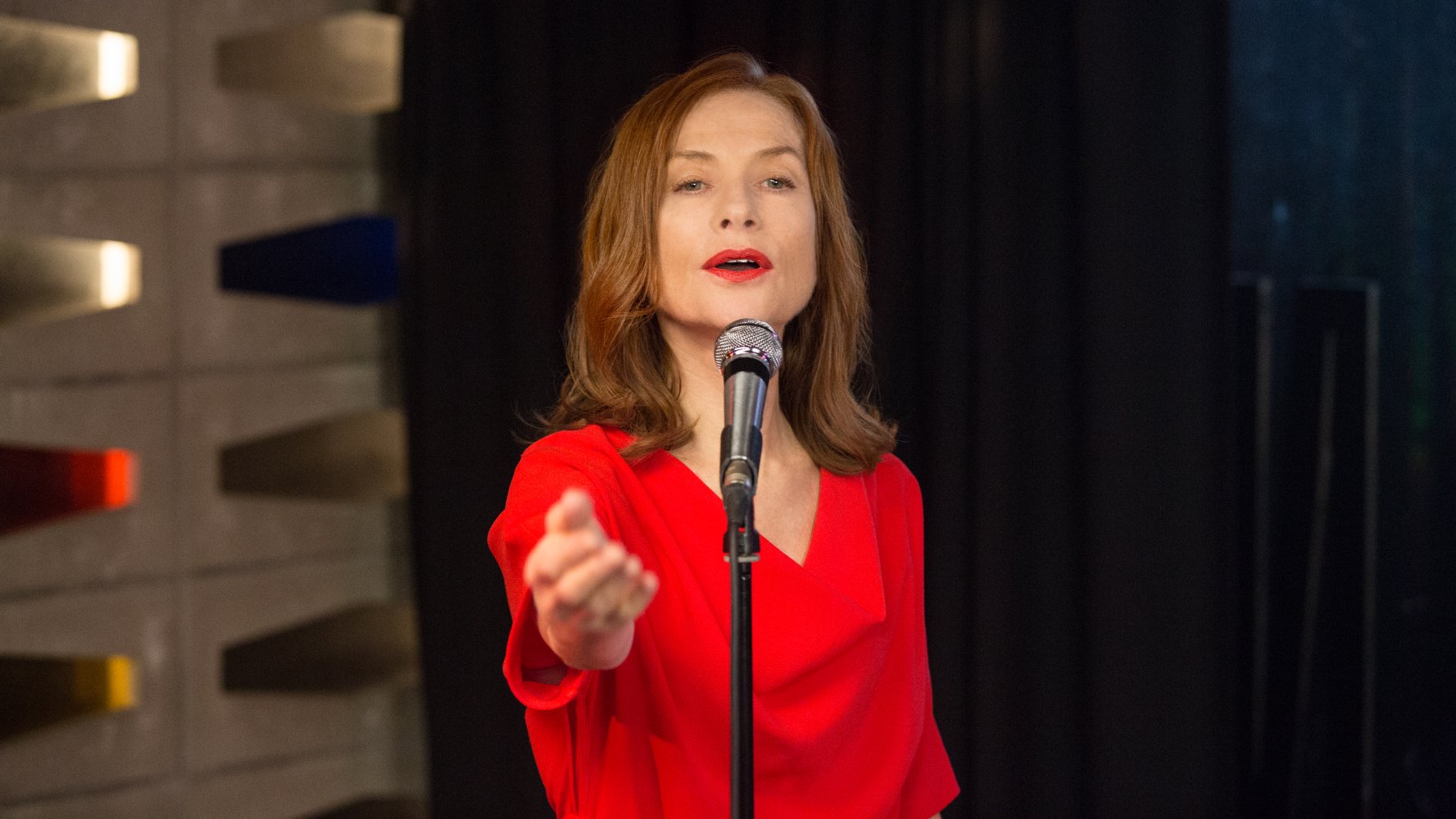 Gentle Romantic Comedy starring the amazing Isabelle Huppert.  A formerly well-known singer is now working in a pate factory.  A young boxer has taken a temp job there to make ends meet before his title belt shot.  He recognises her straight away and encourages her to restart her career.  They start a love affair with her being over twice his age and embark on getting her back onto the stage.
In order to get the most out of this film you have to understand the Eurovision Song Contest, which Ireland has won more times than we care to admit, in this film its called the European Song Contest, but it's basically the same thing.  I'll try break it down for those that don't know about it.  Imagine some of the most tacky pop songs, really catchy but horrible for the most part, and you just love the show.  It's a strange thing that I just can't stop watching every May, no matter what I'm doing, no matter how much I resist I just find myself watching and laughing, and then watching nervously as the voting starts to find the winner.  Usually, and it's very rare that this is not the case, the winner and entrants all fade into obscurity after it.
The main character Lilanne, or Laura as she was known on stage, was France's entry 30  years ago and came second.  Now working in a pate factory and making ends meet, we find Laura divorced from the man who was her manager, accountant, song writer, and everything else.  He is a successful producer and celebrity while she is stuck in the factory doing the same thing over and over again.  Nobody knows who she used to be and she's happy that it stays that way.  When young Boxer Jean joins the company as a temp he knows who she is.  Their relationship blossoms and a love affair begins.  Their May to December relationship makes them both happy and when Jean quits the ring to manage Laura it's all going amazing.  When he pressures her to enter the next European Song Contest she is reluctant but does so.
The big problem with this film is that it's just okay, it's pleasant enough, and would make a perfect date night film.  Enough laughs and tears in the right order to make it worth taking your better half to the screen for the night.  Why is that a problem?  Because Isabelle Huppert is a far better actress than this shows, she's had a cracking year with Elle, and some truly entertaining films.  This is middle of the road and when you give what she has given in the past, just good, is not good enough.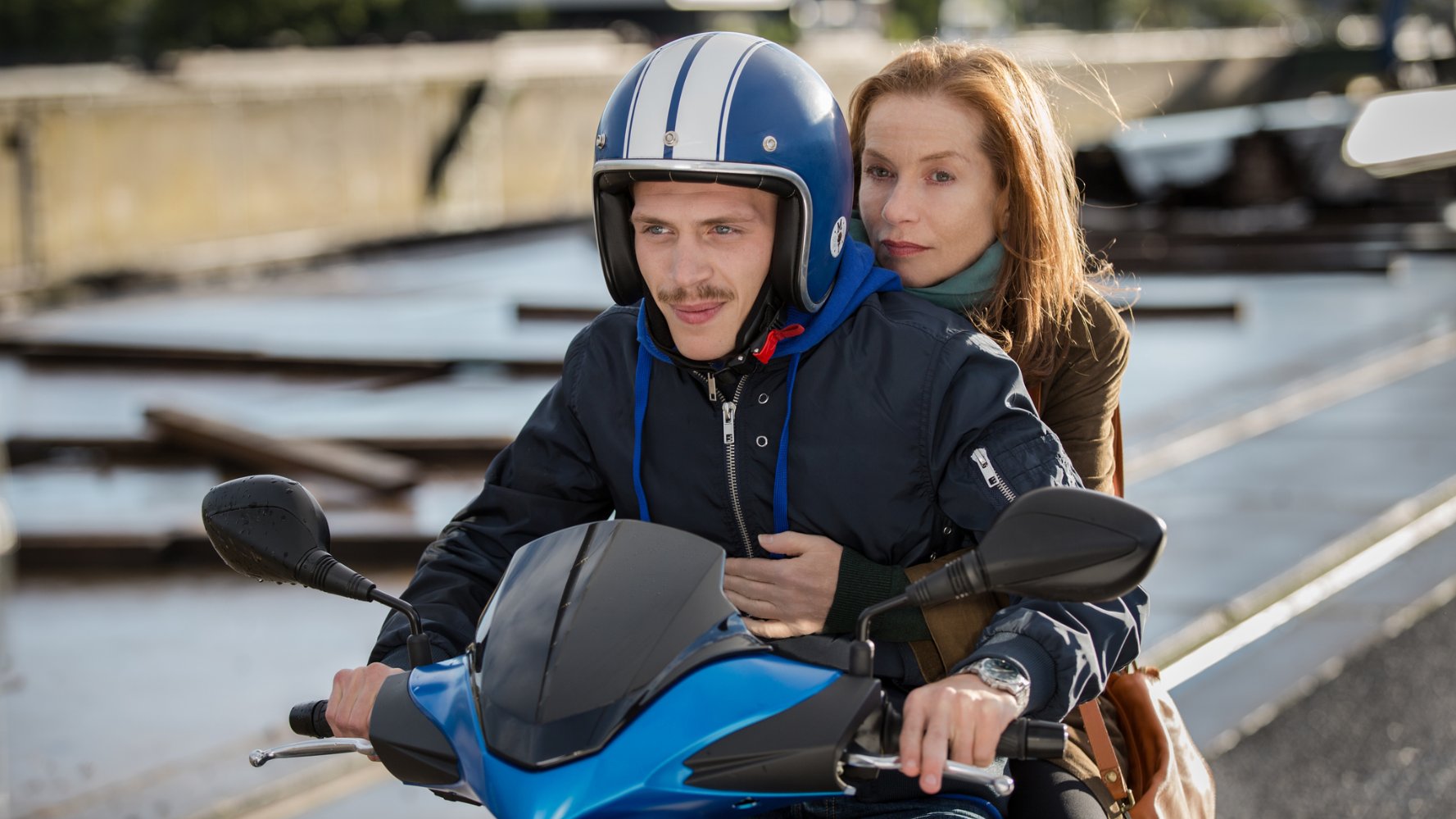 What I do love about her performance is that she does the singing herself and you can tell, if she was dubbed over you'd be able to tell and Marnie Nixon is dead now so you can't do that.  The rest of the performances in the film, including Jean, are so light they are absorbed by Huppert.
Honestly though if you're going to put this lady into a film then give it some meat, this is like You've Got Mail, or Something's Gotta Give, they are perfectly adorable films that will entertain you for a night, but you're not going to go back for seconds.  I could watch Elle time and time again and not get bored, and pick up something new in the performance of the entire cast.  Here I am happy that I got to see it, it was a pleasant Friday morning screening, I was not offended by it at all, and if I needed to get out of the doghouse I'd bring my better half to see it.  Would I venture to see it on my own? No.  I'm done, but it's still not the worst thing you can see this summer.
Director: Bavo Defurne
Writers: Bavo Defurne,
Jacques Boon, Yves Verbraeken


Stars: Isabelle Huppert,

Kévin Azaïs

,

Johan Leysen
TRAILER: