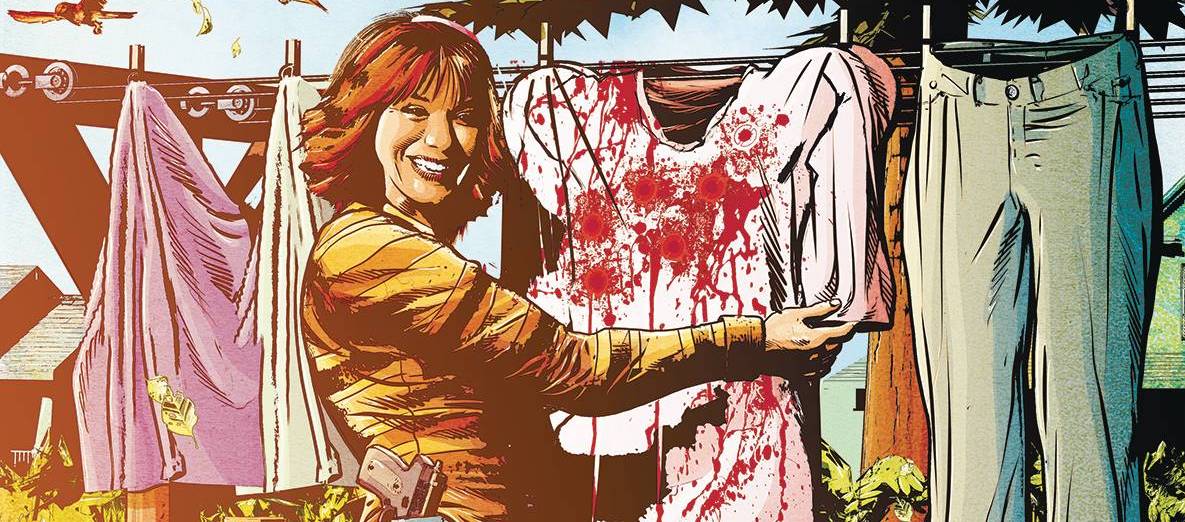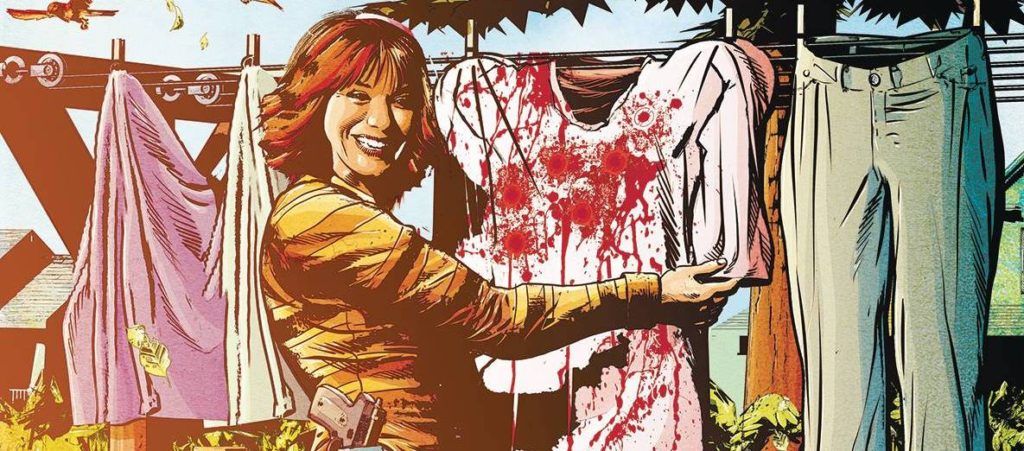 Review: Bad Mother #2 (of 5)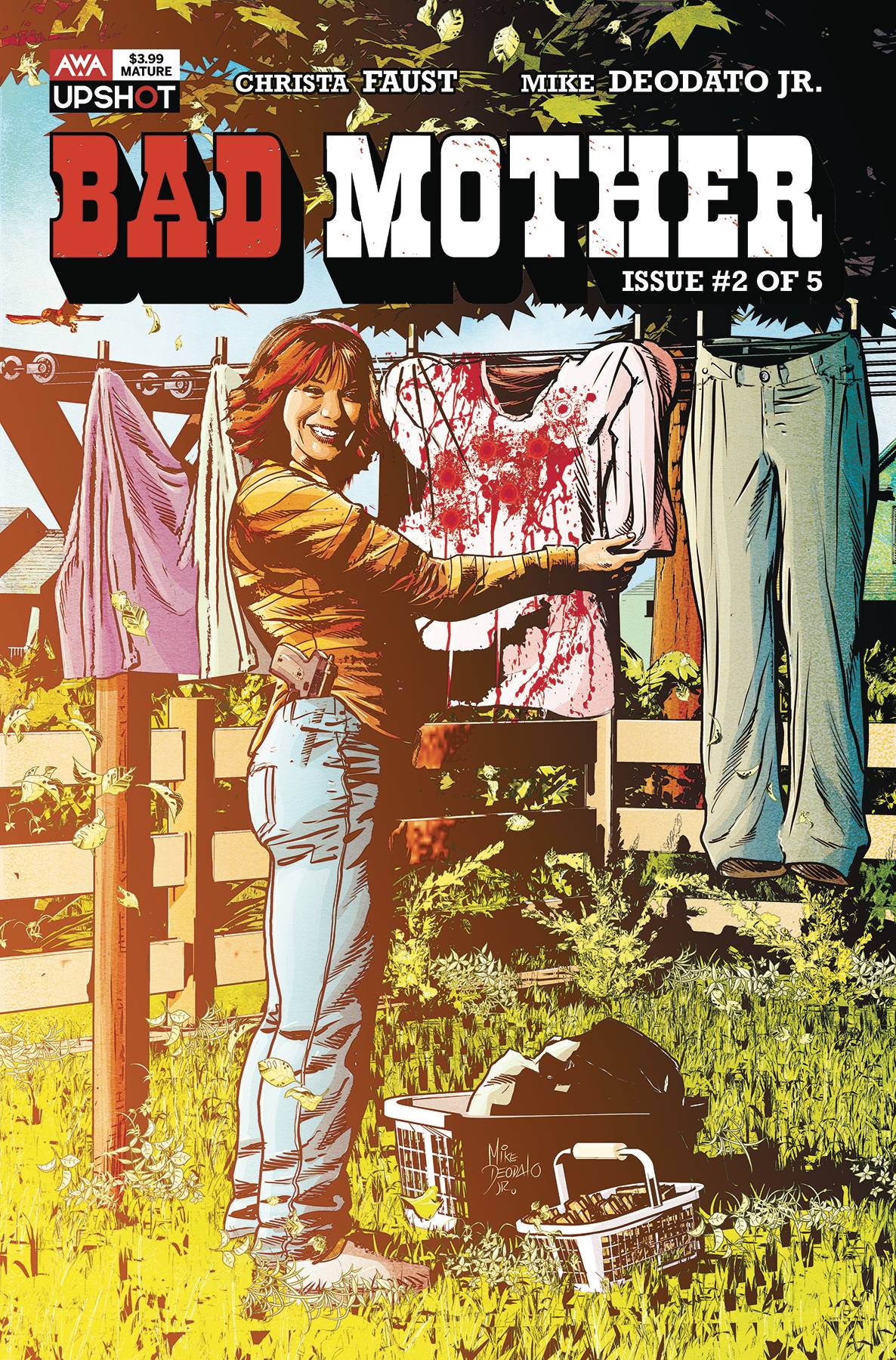 Daughters, or any family member even, going missing is a common story trope; Taken is a great example.  Here though, April Watters, whose daughter has been kidnapped doesn't have those "particular sets of skills" other than being a hit and run victim of life who manages a fraught relationship with her now missing daughter.
This second issue lets the reader in on the crime.  We know who is responsible, who is at fault and who the bad guys are.  The fun is watching April go through the steps herself.  Mixed in, to keep things pacey, is Taylors situation and trouble (the kidnapped daughter) finds herself in.
Christa Faust is know as a crime writer, with a slew of original novels as well as novelizations and media tie-ins.  Here her credentials are clearly on show; she has created a sleepy back water town in which the readers "spider-sense' will recognise as something seedy.  There is a some great dialogue in play that fits the trope well.  There are a couple of things to questions; what is on the card that allows the brothers to drive away from the cop and if it's something like a password, why the dialogue about patio furniture?  Is it a code?  I could be reading too much into it.  Faust also insinuates the most dangerous of technologies, the mobile /cell phone, into the story.  What did we ever do without these pocket miracles?  Those that like a true mystery may feel that the way the phone is used  takes something away from the power of deduction.
Mike Deodato  Jr. is something of a revelation in this book.  Known originally as a bit of cheescake artist, due in part to breaking into the industry back in the 90's when that style was huge, Deodato Jr. has developed into a very strong superhero artist.  This is truly next level, with a huge dollop of realism imposing instead of the more expected action poses.  Simply put, Deodato Jr.'s pencils, with a touch of Paul Gulacy and a smidge of Michael Gaydos is some of the best work I have seen in recent months.  Not even the amount of cell phone usage can take away from the pencils.  Setting the ambience of the book is colorist Lee Loughridge with a scheme that insidiously seeps its darkness through every page, every panel.  Letters are provided by Dezi Sienty who gets to have fun with dialogue fonts, text fonts with the only really obvious double check coming on the washing tabs box.
As much as I enjoyed this book, this genre always frustrates me.  Whenever something bad happens to the family question, the remaining members become super great at stuff.  Take this example; April is a downtrodden, sick of like, world weary type of character.  This is established in book one and is carried over well here.  But she turns into some sort of super sleuth to get on her missing daughters trail.  This isn't the fault of anyone involved in the book; this is a great example of the crime / mystery genre; but this quirk is bothersome to me.
Writing – 4 Stars
Art – 5 Stars
Colors – 5 Stars
Overall – 4.5 Stars
Written by;  Christa Faust
Art by, Mike Deodato Jr.
Colors by;  Lee Loughridge
Letters by; Dezi Sienty
Published by; Artists Writers & Artisans Inc. (AWA)