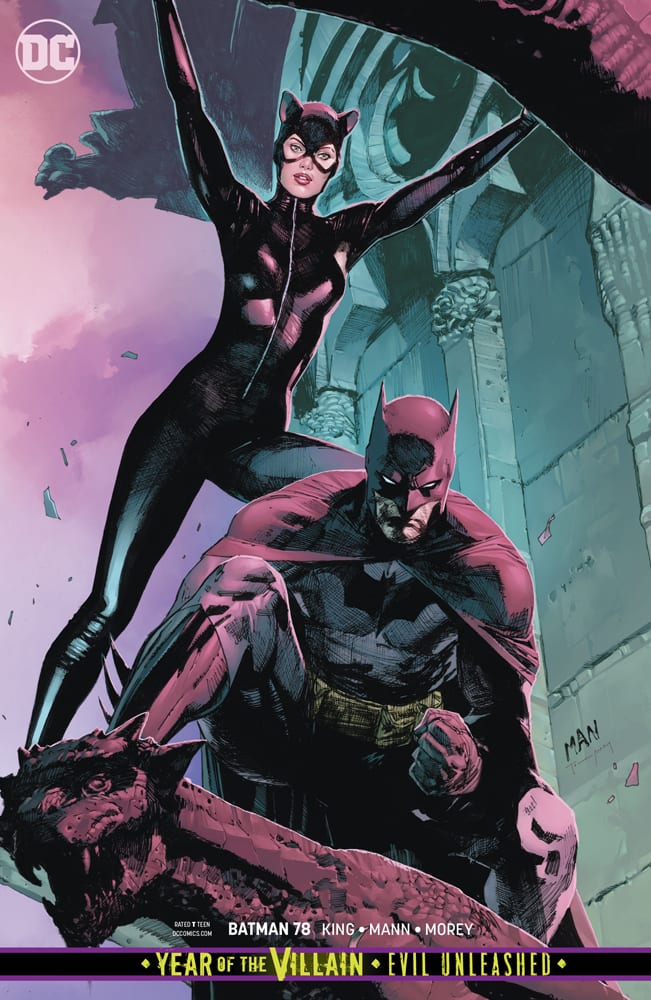 "…Because I let you catch me." – Selina Kyle.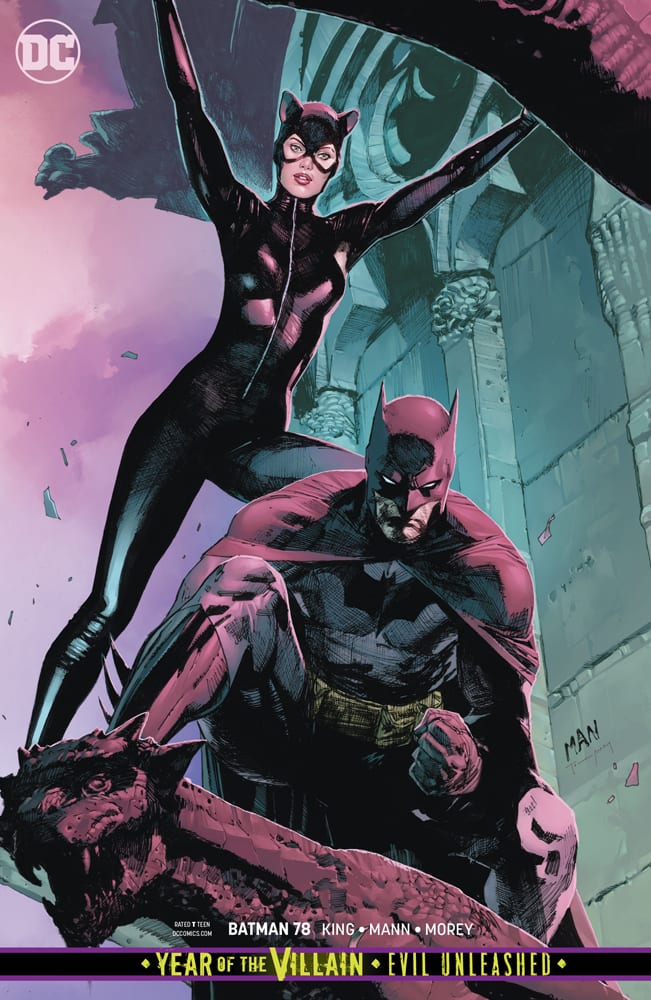 Synopsis:
The Cat and the Bat are resting on a beach, in there civilian guises, both lying to each other and telling each other they are fine. Then they don their respective uniforms and go on duty together, arguing about who has the upper hand in this situation. Who allowed the other to get said upper hand? This issue opens with a massive ego trip as our on-again, off-again lovers try to resist giving in to the temptation, but, of course, they fail. What makes the Bruce Wayne, Selina Kyle relationship so much fun, and never gets old, is the fact that they know they're not right for each other but also can't resist each other.
The Creative Team:
Tom King explores the relationship between the cat and the bat like no other writer as these two explore their past, present and possible future together. This sexual tension began with Julie Newmar and Adam West on the old 1960's TV series. But, of course, they were limited by the standards of that day, plus the fact that it was a campy send-up of the comic book. The ideas created by these ingenious writers were so clever, however, that they bled over to the comic books and these ideas resonate to this day. Great stuff includes our heroes at play with the Batarang and the emotional rollercoaster that is their relationship.
Clay Mann brings our heroes out of the dark and into the light. Once in a while, I like to see the caped crusader not lurking in the shadows and Mann delivers with this issue. In the guises of Bruce Wayne and Selina Kyle, we see this tortured couple agonize over their dark, complicated relationship against the misleading backdrop of a calm and sunny day at the beach. The bright imagery serves this tale so well and really draws us into the tale of the two incompatible shadow dwellers. Highlights include day turning into the night near the end and the final splash page as our heroes enjoy a poignant moment.
In Conclusion:
Superhero comics don't always need to be action-packed and this little tale serves the caped crusader well as an introspective piece. These type of stories help to flesh out the characters and make them three dimensional as opposed to simply two-dimensional good guys versus bad guy tales that become boring if we don't see some contrast and motivation with the characters. This tale is a touching moment between the two leads as they try to figure out why they are so drawn to each other even though they're not good for each other I loved this story and it's one of my favorite Batman tales of this, or any other, year. ****1/2 (9.7 rating)
[yasr_overall_rating size="large"]
[yasr_visitor_votes size="large"]
Writer – Tom King
Art – Clay Mann
Colors – Tomeu Morey
Letters – Clayton Cowles
Publisher – DC