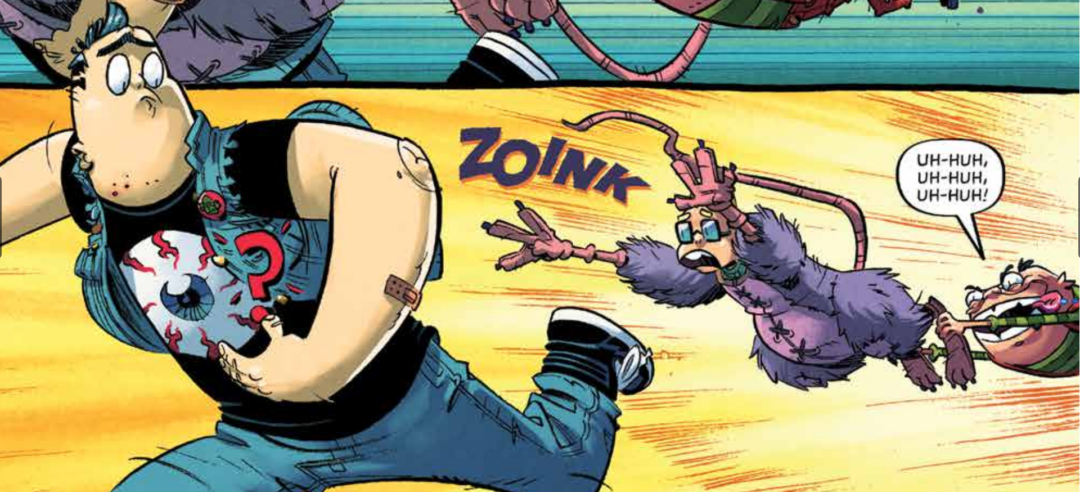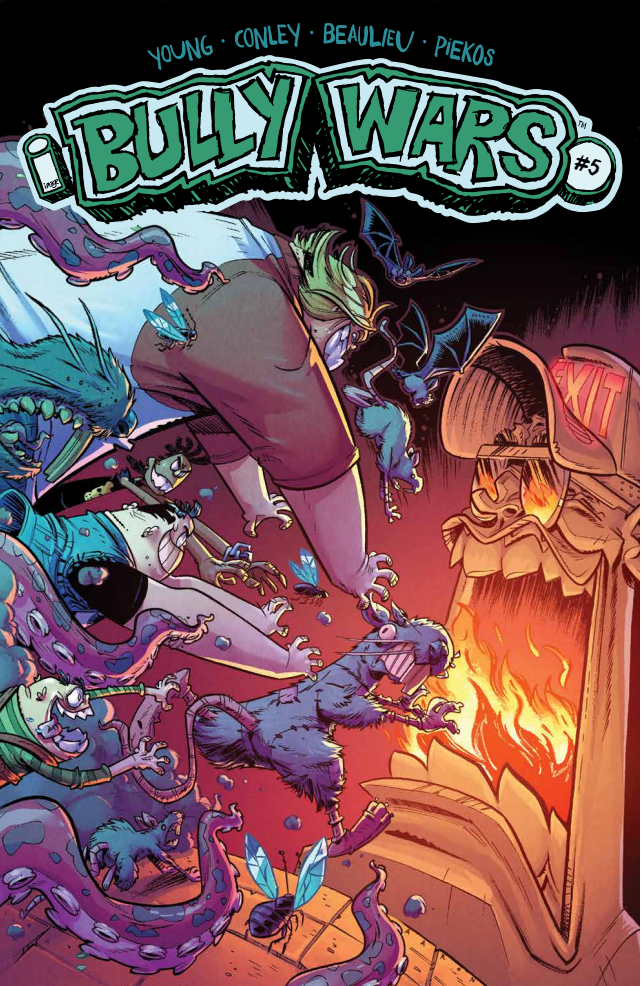 As I go through my collection of comic books I reflect on what they mean to me.  There are books that provide seminal moments in the career of a beloved character.  There are books that speak to me on a very personal and emotional level.  Then there are books that are just fun.  Books that are a visual spectacle and just plain entertaining.  Bully Wars #5 is one of those books.
This issue is the concluding chapter in this arc.  Bully Wars written by Skottie Young (Venom, Rocket Raccoon) follows a contest in Rottenville High School to see who will be crowned Bully Supreme.  Any number of bullies enter this contest, promoted by the school's gym teacher/coach; Coach Hurt.  The schools aspiring bullies are sent into the school to catch the rat; one particularly set upon boy named Spencer who is forced to wear a rat costume.  As the bullies are defeated in turn they are forced to join the coach outside and await the victor.  In issue 5 the contest has come down to two bullies, Rufus Ruffhouse and Hock and his gang.  Unbeknownst to Hock, Rufus and Spencer have agreed to help each other.  Spencer has promised to help Rufus win the competition while Rufus has agreed to leave off bullying Spencer and his friends for one year if they win.  When push comes to shove though, Rufus finds himself reneging on the deal under pressure from Hock and a hilarious battle of catch-the rat ensues as each team tries to get Spencer and make their way to the school exit.  Meanwhile, Spencer's friends, watching the proceedings from outside, [yasr_overall_rating size="large"]have had enough and vow to help their friend.  They rally support for Spencer and as the two bullies fight over 'The Rat' they enter the school.  With them are all of the kids who have been bullied in the school and they finally stand up for themselves; saving Spencer the ignominy of being carried out of the school in a rat costume.
Up until this point, the book was pure fun and Aaron Conley (Sabretooth Swordsman, Secret Wars: Battleworld) conveys this with an art style that is reminiscent of the animation in Courage the Cowardly Dog.  This exaggerated style figuratively pops off the page and is a visual pleasure.  It conveys the whimsy of the book while giving a cartoonish menace to the bullies and a uniqueness to each of the other characters.  As the issue comes to an end, Young provides us with a life lesson from a surprising source; Rufus.  Rufus chooses to honor his bargain in the most magnanimous and heartwarming way possible; to the consternation of Coach Hurt it should be noted.  As the Bully Wars end and the school year starts at Rottenville High, Rufus has found a new group of friend in Spencer and his companions.  To each's delight, they find they have much in common; with Rufus being an avid comic book collector as well.  While the writing is not legendary or avant-garde, it is refreshing and provides a valuable lesson in bullying and friendship without being preachy or self-absorbed.  Bully Wars is a worthy read that is both fun and heartwarming.
Writing – 3.5 of 5 Stars
Art – 5 of 5 Stars
[yasr_overall_rating size="medium"]
Writing – Skottie Young
Art – Jason Conley
Color – Jean-Francois Beaulieu
Letters – Nate Piekos