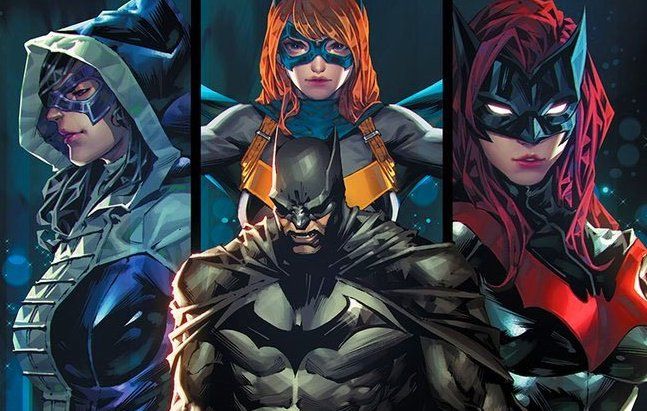 Review: Detective Comics #1027
One of the biggest icons in the world hits a massive milestone this week; 1000 issues after his first appearance we are gathered around, yet again, to celebrate Batman.
The book represents the many iterations of the Caped Crusader.  Whilst there is no direct nod to the sci-fi 60's, the Dark Knight Detective of the early 70's, there are a couple of nods to the original #27.  The book is a huge 144 pages, featuring 12 very different stories, from a list of creators, most of whom have hit their respective high notes over the last 20 years.
These include current Detective writer Peter J. Tomasi, Brian Michael Bendis, Scott Snyder, Grant Morrison, Tom King and current Batman writer James Tynion IV.  Thrown into the mix are Kelly Sue DeConnick, Matt Fraction and "old-timers' Marv Wolfman and Dan Jurgens.  The list is a great example of the creators that Batman can entice into the dark folds of Gotham city.  From the stories, I think The Master Class by Brian Michael Bendis and Detective #26 by Grant Morrison and are my favourites, though this doesn't take anything away from any of the other stories.  In fact, the writers and their versions of Batman, just go to show how versatile the seemingly one dimensional vigilante actually is.  I also quite enjoyed Ghosts from James Tynion IV and it was fun reeding a Tom King story that didn't go on for fifty issues or so!
The artists involved also form a veritable who's who including Brad Walker, John Romita JR., Ivan Reis and legend Walt Simonson who seems to be aiming for a Klaus Janson impression.  Readers of my reviews know how much I like John Romita JR; Fore is no exception.  The different art styles are as different as the story types; each artist gets to show a Batman that lives for re-iteration.  Colors are provided by a swathe of colorsists from the excellent Jordie Bellaire, Arif Prianto and Ivan Plascencia.  Letterers are well represented by Steve Wands, Tom Napolitano and AndWorld Design to name a few.
Given the over 80 years of his existence, there are going to be parts of Batman you don't like.  Invariably, theses may pop up in here, after all you can't please everyone all of the time.  Instead of picking at the faults that I am sure exist in the book (I loved the Aparo mentions and Spoiler getting hugged by Batgirl is one the best bits however), I am instead going to tip my hat and say well done DC for producing a book worthy of this tremendous milestone that I doubt Bob Kane and Bill Finger themselves would ever have seen coming!
Overall  – 5 Stars
Written by; Peter J. Tomasi, Brian Michael Bendis, Matt FractionGreg Rucka, james Tynion IV, Kelly Sue DeConnick, Mariko Tamaki, Dan Jurgens, Scott Snyder, Tom King, Grant Morrison, Marv Wolfman
Art by; Brad Walker, David Marquez, Chip Zdarsky, Eduardo Risso, John Romita JR. Dan Mora, Dan Jurgens, Kevin Nowlan, Ivan Reis, Walter Simmonson, Chris Burnham, Emanuela Luppachino
Inks by; Andrew Hennesy, Klaus Janson, Joe Prado, BillSienkiewicz
Colors by; Nathan Fairbairn, Alejandro Sanchez, Chip Zdarsky, Eduardo Risso, Ivan Palscencia, Arif Prianto, Tamra Bonvillain, Jordie Bellaire, Laura Martin, Marcelo Maiolo, Hi-Fi
Letters by; Rob Leigh, Joshua Reed, Aditya Bidikar, Tom Napolitano,AndWorld Design, Troy Peteri, John Workman, Steve Wands, Carlos Mangual
Published by; DC Comics