Review: Hellboy and the BPRD 1956 #1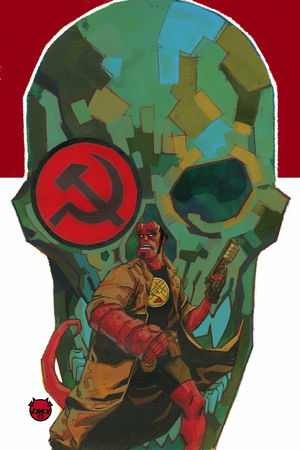 Mike Mignola takes another dive into the universe of Hellboy and the BPRD  in 1956 in this first issue of the same name.  This book follows three separate story-lines as the converge in a momentous year in Hellboy's life.
Hellboy, grieving the death of his dog Mac, sits in a briefing with two other agents of the BPRD.  Wanting someone to talk to about the death of his animal and feeling lonely and depressed with the absence of Proffesor Bruttenholm, Hellboy is feeling despondent and detached.  Not really paying attention, Hellboy misses most of the briefing about supernatural attacks occurring throughout Mexico.  Resigned to the fact that no emotional support is forthcoming, Hellboy gets in the car with the two agents.  Fans of the series will recognize that these events will lead to the infamous Hellboy In Mexico storyline.  Hellboy's despondency adds more backstory to the five month-long supernatural bender Hellboy will eventually find himself on.
Meanwhile, Professor Bruttenholm is in Washington DC justifying the BPRD's work to Alan Dulles of The Central Intelligence Agency.  Bruttenholm is also concerned about the reappearance of enkeladite and questions how it has reappeared  after being seized by the BPRD. 
(Hellboy and the BPRD 1948)  Dulles, however, considers the matter closed and is more concerned with operations by the Soviet Special Sciences Service.  Consistent with that, one of Dulles' agents is at BPRD headquarters interviewing BPRD Agent Xiang about a S3 operative.  Xiang, possessing telepathic abilities, is able to focus in on the Soviet agent and senses that he is possessed by an entity which is in turn in fear of a stronger force.  That force is Varvara, the demonic director of S3 who inhabits the body of a young girl.  She is intent on finding enkeladite for some unknown purpose.  However, given enkeladite's ability to create gates for supernatural beings from alternative universes, it stands to reason that those reasons are nefarious.
Mignola and his team continue to deliver engaging stories in the "Mignola" universe even as we know how the story will eventually end.  While those who are not familiar with BPRD or Hellboy might be confused by this book, fans of the series will delight in how this issue fits into the overall timeline.  The artwork is classic BPRD and stays faithful to the look and tone of the original.  In short, this is a highly enjoyable book but a rather deep dive for those who are unfamiliar with the material.
Writing – 4 of 4 Stars
Art – 4 of 4 Stars
[yasr_overall_rating size="large"]
(W) Chris Roberson (A) Yishan Li, Mike Norton, Michael Avon Oeming, Dave Stewart (CA) Dave Johnson