Review: Lonely Receiver #1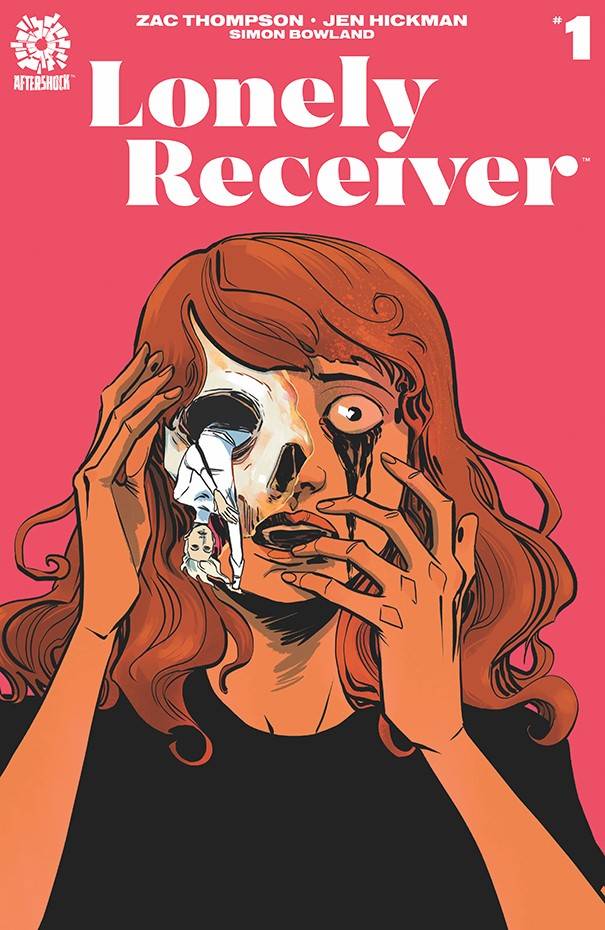 What would you do if your perfect partner, matched specifically to your exact needs falls out of love with you?  In today's world this could mean more phone love, or phone hate depending on your own Twitter feed. But do those online contacts make for real connections? Does that online void look to swallow you whole?  These questions are at the heart of this new series, Lonely Receiver, from AfterShock Comics.
Catrin Vander is in a rough place.  After creating her perfect partner in Rhion, an A.I. after ten years, the one-sided relationship hits the skids as Rhion evolves in a somewhat existential Doctor Manhattan manner, making more connections and seemingly devoid of real emotional one person focus.  The following break-up drives  Catrin to her phone which is almost an empty vessel as much as her pre-ordered partner.
I am a big fan of Zac Thompson.  Over the last few years, I have seen him develop into a fantastically strong writer, who welcomes the opportunity to challenge perceptions.  The idea of a perfect love can be traced back to any number of movies including Mannequin, Weird Science and a host of Black Mirror episodes.  In most cases, the perfect love doesn't last; relationships need space to grow and flourish.  If you get your partner out of the box and ready to go, where is the connection.  Reading the book, there isn't really a hero or villain; both Catrin and Rhion are kind of right, though with Catrin it's her expectations that land her in trouble.  Thompson's dialogue is wordy, but pay attention; hardly a word is wasted as he weaves in and out of the relationship aspects, entwined with a horror vibe thrown in for good measure.
The art and colors are supplied by Jen Hickman who takes a surprising twist with the art.  At the start of the book the art feels more cohesive.  As the relationship starts to crack, so does the art in places.  With a style that's strives for realism, its' a bold choice to deconstruct the art.  Hickman's art is well observed; the thinly veiled disinterest from Rhion is almost palatable and is heartbreaking to watch.  The colors are varied though, again cleverly, carries a level of emotion.  Letters are provided by one of my favourite letterers in Simon Bowland whose work has graced many an indie book.  Here Bowland gets to have fun with both the font and the various text boxes.
For a book of many influences, Thompson manages to keep things fresh even going as far as to add hooks for future issues.  A well written, observed slice of love from two distinct polar opposites.
Writing – 5 Stars
Art & Colors – 5 Stars
Overall – 5 Stars
Written by; Zac Thompson
Art & Colors by; Jen Hickman
Letters by; Simon Bowland
Published by; AfterShock Comics