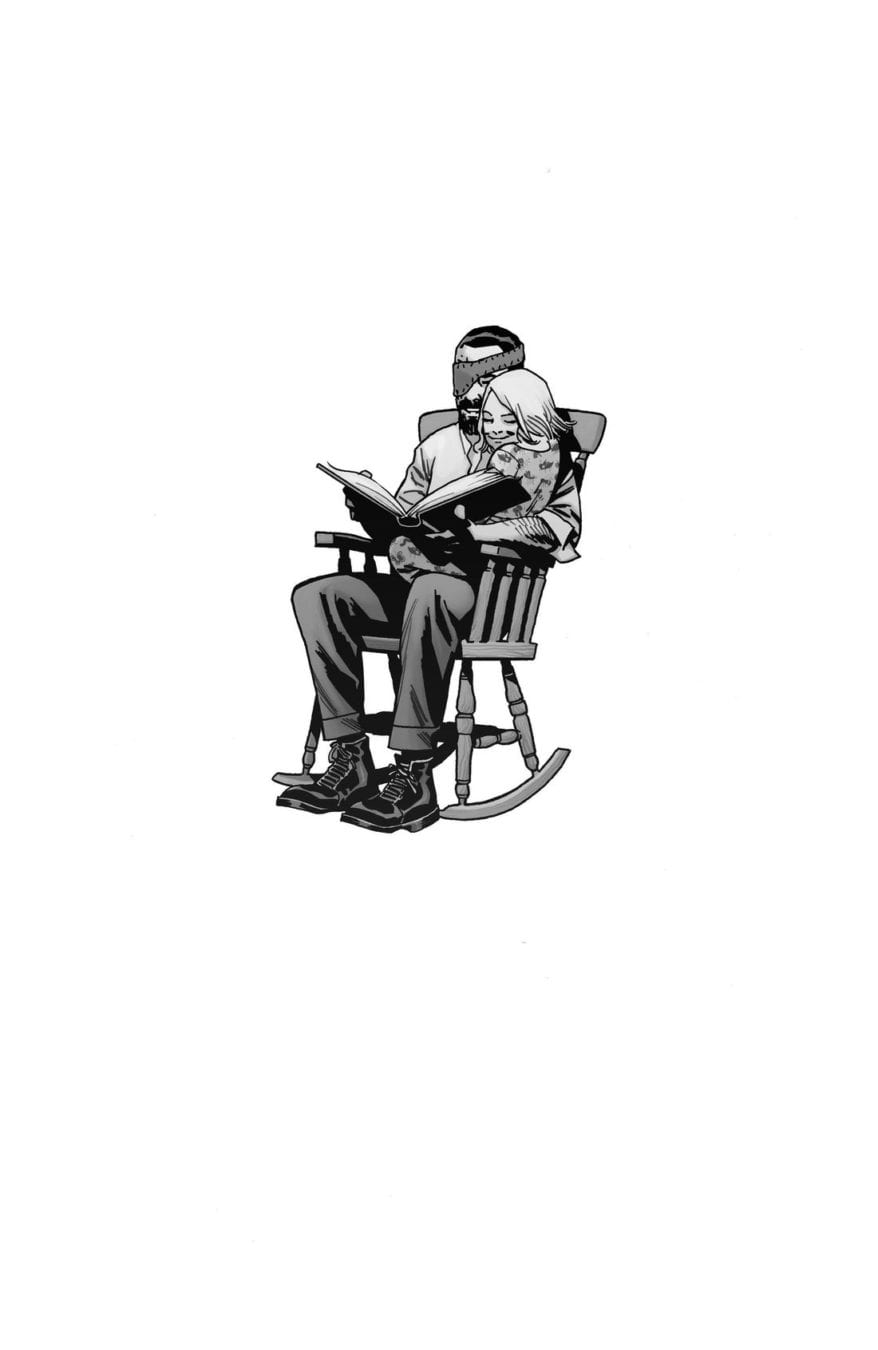 Review: The Walking Dead #193 (FINALE)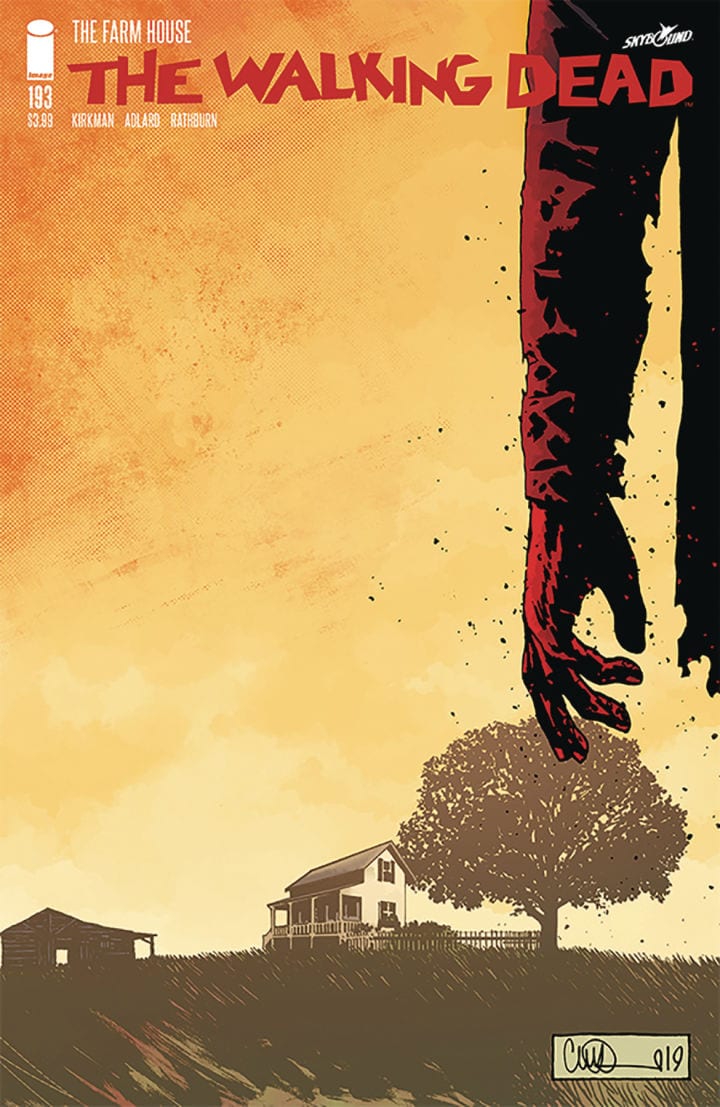 For 15 years writer Robert Kirkman has regaled us with the tales of a group of survivors during the days of the zombie apocalypse, for those of you living off planet for the last decade and a half, the book was called The Walking Dead. Led by the iconic sheriff Rick Grimes, an everyman unlike any other man, the ever-changing ragtag group, plus or minus a member from arc to arc managed to engage a vast readership of super-loyal fans. Kirkman did what many comic book creators before and after him have tried, he completed his story on his terms without compromising the ideals and ideas that made it so appealing from the start. Issue after issue, Kirkman and long-time co-creator, artist Charlie Adlard consistently delivered quality stories with imaginative visuals that made The Walking Dead stand out as a must-read title for its entire 193 issue run.
Known for their willingness to kill off off lead characters in furtherance of telling a superior story, Kirkman and Adlard saved their biggest surprise for the end. Hot on the heels of Rick Grimes' completely unexpected and heart-wrenching death in issue 192 Kirkman lands the biggest one-two punch in recent comic book history by ending the ultra-popular, mega-selling zombie series. In fact, the only other example of successive issues being so explosive would be Amazing Spider-Man #121 &122 in which Gwen Stacy and the Green Goblin respectively and apparently meet their demise. Granted neither of these characters have stayed dead and obviously neither issue ended the beloved series outright. Still, they were poignant issues in a gut-punching combination that would have left Mike Tyson gasping to catch his breath.
Before I get into the events of the final issue let me say I will do my very best to keep it spoiler-free in the interest of all the disappointed readers who may not have been able to get their hands on a copy of the sold-out issue. If you are among the many who came late and walk away empty-handed Wednesday, fear not the book has already gone to a second printing. The issue begins with a time jump in excess of ten years, many of the most well known and loved characters have grown a bit long in the tooth and grey of hair and those who have grown to adulthood in the post-Rick Grimes era have done so because of the sacrifices made by the legendary lawman and his cherished friends, not the least of which is his own son, Carl Grimes. Older, married and now a father himself, Carl is the unquestionable main character of Kirkman and Adlard's closing chapter. The narrative unfolds at a lively pace, giving us a glimpse of each of the surviving characters new roles in this quieter, gentler world. Kirkman is careful not to overwhelm us with an abundance of meandering, pseudo-political jargon, instead he delivers some of the best character work we've seen in the series. Carl is his own man, far from a mindless clone of his famous father he has carved out a life for himself and his wife and daughter. However, he is definitely the son of Rick Grimes, emotional, hot-tempered and a man of action. Thus it isn't too far into the story that we see Carl at odds with the powers that be and those powers are his one time companions, most prominent among them is President Maggie Rhee.
It seems the dead have been largely relegated to the outlying territories and away from the residential safe zones. This has created a curiosity among the younger citizens and a business opportunity for Presidential son, Hershel. The young man has made himself something of a post-apocalyptic P.T. Barnum, traveling from town to town with his "live" dead show, aptly called The Walking Dead. One of his star attractions slips its fetters and wanders onto the Grimes Family property. This does not sit well with the new alpha-Grimes, Carl who sees the shambling undead figure and quickly dispatches it into the afterlife. Thus Kirkman creates an engrossing conflict that pits the old world against the new. Things go from bad to worse for Carl who finishes off the remaining cast of Hershel's zombie-capades before heading out on the dusty trail with Sofia. The pair encounter many more of Kirkman's cast of characters from the storied past including Eugene and fan favorite, Michonne who is now a judge. The narrative plays out like an out western complete with locomotives, horse back adventures and a new sheriff in town. Rick Grimes' somewhat naive vision of a better world comes to fruition oft times in spite of the decisions and the sacrifices he made. Kirkman does a solid job of portraying the younger generation as  living substantially sheltered lives particularly in comparison to Carl's youth. Nowhere is that chasm wider and more magnified than in Carl's relationship with his own daughter which Kirkman so brilliantly uses as a framing device for the entire finale. The closing scene of Carl reading to his daughter from a storybook about her grandfather is as heartwarming as it gets. Carl Grimes is as complex and multi-faceted as any character in modern fiction. The weight of his every decision is betrayed by the fantastic detail in his facial expression by Adlard. This series has been one of the truest collaborations in comic book history and the culmination of that collaboration is more evident in the character of Carl Grimes than in any other including Rick.
This has been Carl's story in so many ways and on so many levels. We have seen him grow into the man we see on the other side of this time jump and it has been a pure joy to behold. Kirkman precisely keeps multiple plot threads moving with apparent ease without leaving us wondering about any of the main players in this complex drama. The Walking Dead is more than a zombie story, its a human story, a story about the triumph of the human spirit, but perhaps more so its the story of the triumph of humanity. At times cruel and brutal, the best villains were always the other people, the living people. Kirkman showed us how high humanity could aim by allowing us to see how far down we could go and still keep fighting. In the final pages of this final issue we see that faith keeps the man who keeps his faith in man and Rick Grimes was the man who taught us that.
Visually Charlie Adlard turns in one of his best issues in a long line of best issues. His decision to ink his own pencils rather than call on regular series inker Stefano Gaudino results in a consistency throughout the super-sized issue that would perhaps not have been the case otherwise. Adlard has not missed an issue since coming on as the regular artist with issue #7 and the chemistry that has created is nothing short of synergy. Adlard is more that a collaborator, he is a co-creator, his contribution to The Walking Dead cannot be overstated. The fluidity of his visual storytelling is a perfect fit for Kirkman's narrative style, capturing the emotional urgency in every word of every issue. Although some of the character designs were in place when Adlard came onboard, many, heck most of the best known characters were the result of Adlard and Kirkman's collaborative efforts.
As unexpected as it was, the final issue of The Walking Dead is a fitting, cohesive, complex closing chapter to one of the highest concept zombie stories of all time. But its so much more than that; its a human drama, an adventure epic and a cautionary tale. There is something for everyone because the story is about everyone. We see ourselves in Glen, in Negan, Eugene, Dwight, Aaron and Jesus, Michonne, Maggie, Princess and in Carl and Rick Grimes. What other way could such a long running narrative keep the plots fresh, the arcs engrossing and keep readers coming back. The answer is obvious, you have to care about the characters and that's what placed TWD head and shoulders and spleens and entrails above the rest. Again, what more could you ask from an independent comic about zombies and it thats all this book was you might have a point, but this work will be studied among the best we have to offer, deservedly so. Sadly if you sat back waiting for the next cool style of beard to grow in lieu of reading The Walking Dead, you might want to continue with the beard-play where as i and my house will serve Rick Grimes.
I made a purposeful decision not to speak on the television shows, I am a fan and a regular viewer, but I firmly believed the Comic book can stand of its own volition. Whether you came to the party late or left early there is lots of absolutely brilliant writing to be enjoyed and i for one am going to miss checking in with the Grimes Family once a week. If you haven't read a single panel of TWD I suggest pl1opping down the money for the omnibi and digging in brothers and sisters. The Walking Dead haas earned its spot in the pop culture zeitgeist for all eternity. 5/5
[yasr_overall_rating size="large"]
Writer- Robert Kirkman
Artist- Charlie Adlard
Colored by- Cliff Rathburn
Lettered- Rus Wooton