Review: Vampirella – Trial of the Soul One-Shot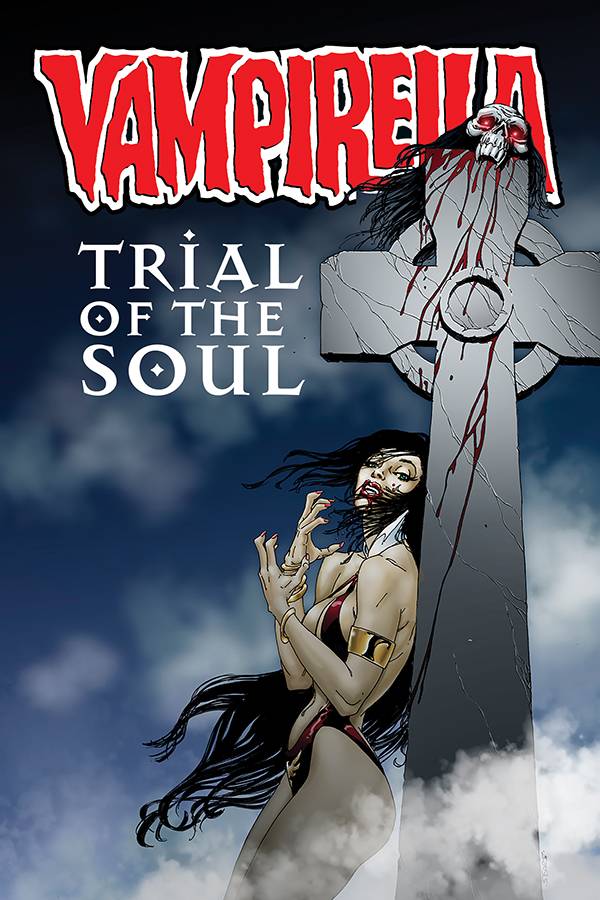 I am not going to lie; I have been looking forward to this book since it was first announced.  Vampi is, to some extent, Dynamite's version of Batman with the number of different iterations you can see in any given month.  Now I like the various Vampi's; the Betty & Veronica book was fun and I am loving the Vampi Red Sonja team-up book;  but here we are getting pure Vampriella!
After walking the earth for some time, Vampi has come to the attention of an immortal wizard king who has been tasked in determining if Vampi has a soul.  Now, all vampire lovers know that traditionally vampires don't have a soul; when they do, things get a little Angel and Spike!  Still Vampi isn't a true vampire; she only shares a number of their attributes, their strengths and few of their weakneses.  Taking the "sleeping with the enemy" ploy very literally, the wizard king  has to kill Vampi if it come to light that she is soul deficient.
Bill Willingham first crossed my span of attention on the JSA book.  Of course, more people will know him from Fables.  Confession time; I have never read an issue of Fables!  I quite enjoyed Willingham's JSA run though it did feel that things were hampered by editorial; hey it happens to a lot of writers at DC.  Reading this book, I remembered why I loved the Vampi character.  Here, Vampi is sexy, curvy, sassy and fangtastic!  For a large part of the book she is trying to do the right thing irrespective of the impact that it may have on her.  This oneshot is clearly setting up the next big bad for Vampi and Willingham sticks to his task well, even when things feel a little clunky in the middle.  Willingham brings back the pace and offers a resolution that may fit the short game outcome, though the lack of a clear resolution may annoy fans.  The dialogue, specifically John's, cdoes feel stilted, though I think this done as an affectation to show his devotion to his cause.
The art in the book is provided by Guiseppe Cafaro.  Now, Cafaro has spent time on any number of books, including Zenescope.  Therefore it should come as no surprise to anyone that Mr. Cafaro knows how to get his curve on!  Under his pencils, Vampi looks gloriously gorgeous.  Cafaro recognises the star of the show and looks to position her well in nearly every panel (there is one panel that looks odd with the addition of, I think they are abs).  All that good work takes a hit when it come to John, whose look feels a little less natural and has an, ironically, god awful outfit.  The colors are supplied by Andrew Dalhouse who has quietly gone about his business and seems to have become Dynamite's colorist of choice.  When the book looks this good, who can blame them?  Dalhouse drops a scheme that suites the light pencils of Cafaro.  Letterer Carlos M. Mangual supplies a font that is easy to read, which is handy given how wordy that middle section becomes.  Finally, I know I don't always mention the cover artist but the main A cover by Bart Sears sets the  vibe for the book extremely well;  the colors on the cover are deep and vibrant.
This books feels like a return to grace for a character that has been maligned over any number of minor issues and complaints.  Here, with Willingham and Cafaro calling the shots, Vampi has been taken back to her unapologetic best!
Writing – 5 Stars
Art – 5 Stars
Colors – 5 Stars
Overall – 5 Stars
Written by;  Bill Willingham
Art by;  Guiseppe Cafaro
Colots by; Andrew Dalhouse
Letters by; Carlos M. Mangual
Cover by; Bart Sears
Published by; Dynamite Entertainment